For some parents, one of the hardest things to do is learn to properly swaddle your newborn baby. Don't worry, the Ollie Swaddle from OllieWorld is here to fix that problem.
This post is sponsored by The Ollie World. As always, the opinions here are my own . This post also contains affiliate links. If you use those links, I may make a small profit from them, at no extra cost to you. 
Learning to swaddle with a regular blanket isn't always the easiest thing, especially after a feeding in the middle of the night. That's where the Ollie Swaddle is so unique.
The Ollie Swaddle is worth the investment for sure. It is made with a patented very soft fabric material that is moisture wicking to help reduce the risk of overheating.
It even has a simple bottom opening for hassle free diaper changing. This eliminates the fear of waking the baby to change their diaper and then having to re-swaddle them back up, praying that they stay asleep.
It is made with a custom closure for individual use and also includes a custom hook and loop closure.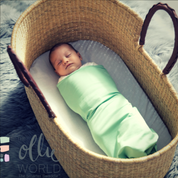 What is really neat about the Ollie Swaddle is that it was designed to grow with baby as your little one goes through different developmental stages.
It can be used when your little one is a newborn and is designed to transition with baby. Baby can be swaddled with their arms in.
Once they learn to hold their head up and roll over, baby can still be swaddled with the Ollie Swaddle with their arms outside of the swaddle.
Also, the fabric stretches allowing both snug and loose design to help promote hip development properly.
Swaddling Benefits with the Ollie Swaddle
Swaddling has so many benefits to your baby and his or her development.
If your baby has a hard time falling asleep, staying asleep, seems overstimulated or straight up exhausted, this swaddle was designed to help calm them down.
Using the Ollie Swaddle to swaddle your little one to sleep allows them to get more restful sleep, which in turn, increases the time baby spends in REM sleep. REM sleep is important for brain development.
Swaddling with their arms in helps to keep baby sleeping on their back. Sleeping on baby's back helps reduce the risk of SIDS.
Swaddling your baby allows your little one to have longer periods of calmness and alertness. This is connected to proper promotion of learning, expanding memory, and increasing attention span.
It's great for helping your little one feel safe and secure like they're still bundled up in your womb.
Keeping the little ones swaddled up helps keep them from feeling overstimulated as well. This can help keep them calm which may help aid in digestion.
As I mentioned before, the Ollie Swaddle is made with material that helps prevent overheating. Keeping your baby swaddled helps keep them warm and at the appropriate body temperature.
Why we truly adore the Ollie Swaddle
As you can see, the Ollie Swaddle helps promote many good things with the development of your baby. Most importantly, in my opinion, it helps baby sleep smoothly.
This is the most important thing to me as a mother to a toddler and a newborn, because, the better my kids sleep, the better I sleep!!!
Related : If you're looking for some more help in the sleep department, check out how the DockATot helps this mama sleep too!
We all know how important sleep is for parents! Let Ollie World help you get that restful nights sleep.
You can grab yours from Ollie World in 4 different colors : Meadow, Sky, Lavender and Stone.
Keeping our newborn happy makes our lives easier. Thanks to the Ollie Swaddle, this is totally achievable. PARENTING WIN!